Hi, and thanks for looking at my site, I'm here to help you play harmonica better.
If you are new to harmonica this will get you going – and it's free http://ow.ly/UAMK30mTb5w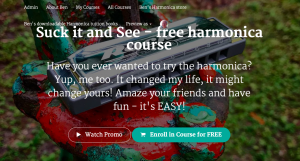 Live harmonica workshops and 'An audience with…' or if you like 'Meet the Masters'
Guests past and upcoming:
Brendan Power, Lee Oskar, Madcat Ruth, Rob Paparozzi, Eddie Martin, Joe Filisko, Paul Lamb, Adam Gussow, David Barrett, Jason Ricci, Filip Jers, Richard Taylor, Will Wilde, Lars Seifert, John Cook, Roly Platt, Rohan Singhal, Giles Robson, Moses Concas, Steve Lockwood, Kinya Polllard, Greg Heuman, Tom Halchack, Randy Landry, Ed Hopwood, Keith Parker, Jerry Fierro, Jonny Cope, Jon and Yuki Vaughan, Simon Joy, Paul Gillings, Beata Kossowska, Jerry Deal, Michael D'Eath, Mark Cole, Rick Park, Dave Walker, Jason Rosenblatt…
Life seems to have given me a mission – to play the harmonica, and encourage others to play the harmonica. I've found I love teaching harmonica and with so many students (over 40,000 on-line) I think I'll keep going for a while.
Skype/Zoom lessons are very popular right now as people want personal feedback on a one to one basis. 30 minutes once a week is the most popular request. Not too onerous, learn one new thing a week and not too expensive. Ask me!
But it's not all to do with the harmonica, I do other things as well, like posing for cheesy photographs wearing barbed wire shirts, playing  khaen,bodhran, washboard, jaws harp,  trumpet, didgeridoo…
I recently got the top job in the UK harmonica community – Chairman of the HarmonicaUK – so now you need an appointment to talk to me! *HARMONICA HOTLINE 07973 284 366 – If you have any harmonica related questions you can call me.
This UK number is available whenever I'm free so try UK office hours. Email me: benhewlett@me.com Or Facebook messenger https://www.facebook.com/BensHarpClub
You can get rid of the 'subscribe' box by clicking the white text 'close' button on the top right.