Hi, and thanks for looking at my site, I'm here to help you play harmonica better.
If you are new to harmonica this will get you going – and it's free http://ow.ly/UAMK30mTb5w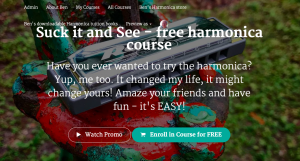 If you have some experience already have a look here to see how you can learn from this. There are courses in all aspects of harmonica learning and one new course added every month – www.playharmonica.co.uk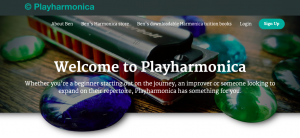 Life seems to have given me a mission – to play the harmonica, and encourage others to play the harmonica. I've found I love teaching harmonica and with so many students (over 28,000 on-line) I think I'll keep going for a while.
Skype lessons are very popular right now as people want personal feedback on a one to one basis. 30 minutes once a week is the most popular request. Not too onerous, learn one new thing a week and not too expensive. Ask me!
But it's not all to do with the harmonica, I do other things as well, like posing for cheesy photographs wearing barbed wire shirts, playing  khaen,bodhran, washboard, jaws harp,  trumpet, didgeridoo…
I recently got the top job in the UK harmonica community – Chairman of the HarmonicaUK – so now you need an appointment to talk to me! *HARMONICA HOTLINE 07973 284 366 – If you have any harmonica related questions you can call me.
This UK number is available whenever I'm free so try UK office hours. Email me: benhewlett@me.com Or Facebook messenger https://www.facebook.com/benjaminhewlett
You can get rid of the 'subscribe' box by clicking the white text 'close' button on the top right.