Hi, and thanks for looking at my site.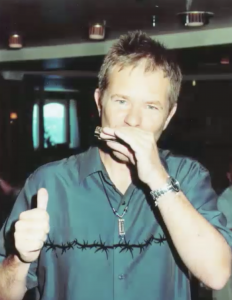 Life seems to have given me a mission – to play the harmonica, and encourage others to play the harmonica. I recently got the top job in the UK harmonica community – Chairman of the National Harmonica League – so now you need an appointment to talk to me!
But it's not all to do with the harmonica, I do other things as well, like posing for cheesy photographs wearing barbed wire shirts, playing trumpet, didgeridoo, khaen, jaws harp, bodhran…
*HARMONICA HOTLINE 07973 284 366 – If you have any harmonica related questions you can call me. This UK number is available whenever I'm free so try UK office hours; texts and messages cannot be answered so just try again if you don't get through.
You can get rid of the 'subscribe' box by clicking the white text 'close' button on the top right.