These are the main projects that keep me busy…
Harmonica Mastery 90 Day Coaching And Mentoring Success Program.
Of all the things I do, and have ever built in the harmonica teaching world, THIS is the best project so far. There's no better way to learn.
See what my students say about it here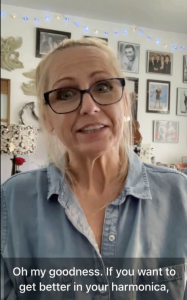 This program offers you the very best way to learn; it comes with daily coaching and mentoring with me in person via 3 one-hour zoom calls a week, and daily Facebook posts.
You get to make a daily post for 90 days in our private Facebook group, and get feedback on your playing from fellow students – who will likely become friends for life.
You have lifetime access to all my video courses – over 90 hours and counting – plus all my 20 books.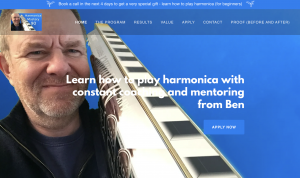 The courses are structured so you do course number one, and then course number two and so on – 67 courses in total with more being added periodically.
We also put you in buddy groups three times a week, ask to see your practice diary every day, and get you to focus by a series of accountability systems.
This program is full-on for the first 90 days and you also get lifetime access plus a moneyback guarantee.
Harmonica Mastery 90 Day Coaching And Mentoring Success Program is the very best way to learn and you have fun, get encouragement and help all the way through – but it's not for everyone, check it out here
Does it actually work? Here's the proof!
If you have some experience already have a look here to see how you can learn from this. There are courses in all aspects of harmonica learning and one new course added regularly – www.playharmonica.co.uk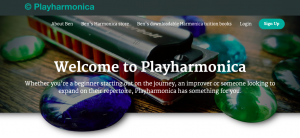 I have been writing courses on Udemy since 2013 and you will find a lot of good stuff there but they are cheaper on Playharmonica.co.uk. I now have over 50,000 students on Udemy.
Need a harmonica?  We can mail one to you. Sonnyboy's Music Store – website
Paul Lennon and I write books on how to play the harmonica. Check out the styles of Sonny Terry, Sonnyboy Williamson 2, Big Walter, Little Walter, William Clarke, Charlie Musselwhite, Howard Levy, Brendan Power and more…
My team and I help children have fun learning to play the harmonica at their schools.
Harmonica World tuition book demos
Free harmonica lessons, HarpsCool lessons, and demos of different harmonicas

I think this phase is over now! I loved performing on Cruise Ships – just me, the band and the audience. Actually I didn't like the showbiz side of things – very dodgy. I also worked on ships a Guest Lecturer, which was better really. I taught the passengers to play the harmonica – whether they liked it or not!
I do a little session recording from time to time – here's an example on a Ladbrokes world cup advert – football, I think it was.
Private lessons
Zoom lessons are very popular right now as people want personal feedback on a one to one basis. I do this only through www.HarmonicaMastery.com so kindly visit that site and apply for a call.
I have been teaching diatonic harmonica professionally since 1995 and playing since 1985.
The people I have been taught by include Howard Levy (one week intensive course) Joe Filisko, Paul Lamb, Brendan Power, Adam Gussow, Charlie McCoy, Dave Barrett, Richard Sleigh and many more.
Here is the whole story – are you busy?