These are the main projects that keep me busy…
If you are new to harmonica this will get you going – and it's free http://ow.ly/UAMK30mTb5w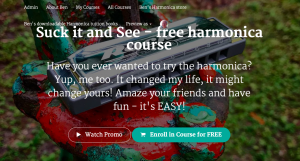 Live harmonica workshops and 'An audience with…' or if you like 'Meet the Masters' http://ow.ly/J7dm50zhO0K
Guests past and upcoming:
Brendan Power, Lee Oskar, Madcat Ruth, Rob Paparozzi, Eddie Martin, Joe Filisko, Paul Lamb, Adam Gussow, David Barrett, Jason Ricci, Filip Jers, Richard Taylor, Will Wilde, Lars Seifert, John Cook, Roly Platt, Rohan Singhal, Giles Robson, Moses Concas, Steve Lockwood, Kinya Polllard, Greg Heuman, Tom Halchack, Randy Landry, Ed Hopwood, Keith Parker, Jerry Fierro, Jonny Cope, Jon and Yuki Vaughan, Simon Joy, Paul Gillings, Beata Kossowska, Jerry Deal, Michael D'Eath, Mark Cole, Rick Park, Dave Walker, Jason Rosenblatt…
If you have some experience already have a look here to see how you can learn from this. There are courses in all aspects of harmonica learning and one new course added every month – www.playharmonica.co.uk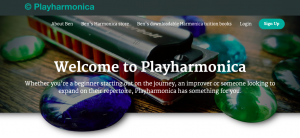 I have been writing courses on Udemy since 2013 and you will find a lot of good stuff there but they are cheaper on Playharmonica.co.uk.
Need a harmonica?  We can mail one to you. Sonnyboy's Music Store has three faces – our own website, Ebay, and Amazon
Paul Lennon and I write books on how to play the harmonica. Check out the styles of Sonny Terry, Sonnyboy Williamson 2, Big Walter, Little Walter, William Clarke, Charlie Musselwhite, Howard Levy, Brendan Power and more…
My team and I help children have fun learning to play the harmonica at their schools.
Harmonica World tuition book demos
Free harmonica lessons, HarpsCool lessons, and demos of different harmonicas

I love to perform on Cruise Ships – just me, the band and the audience. I also work on ships a Guest Lecturer. I teach the passengers to play the harmonica – whether they like it or not!
I do a little session recording from time to time – here's an example on a Ladbrokes world cup advert – football, I think it was.
Private lessons
Skype/Zoom lessons are very popular right now as people want personal feedback on a one to one basis. 30 minutes once a week is the most popular request. Not too onerous, learn one new thing a week and not too expensive. Ask me!
I have been teaching diatonic harmonica professionally since 1995 and playing since 1985.
The people I have been taught by include Howard Levy (one week intensive course) Joe Filisko, Paul Lamb, Brendan Power, Adam Gussow, Charlie McCoy, Dave Barrett, Richard Sleigh and many more.
You can have private lessons with me at my home in Chipping Sodbury, near Bristol, UK. The cost is 50 pence a minute (£30/hour). You can have as many or as few lessons as you like or just a one off.
Private tuition helps you learn the harmonica much faster than learning by yourself – it's a shortcut!
For regular students I require a returnable deposit which is also £30. You get it back when you want to stop or take a break.
Or you can have a lesson with me on SKYPE – please contact my Skype ID (benhewlettbenhewlett) and mention 'harmonica lessons'
Here is the whole story – are you busy?